Say Buh-Bye to the Mini Bag and Hello to the New Go-To
An oldie but a goodie.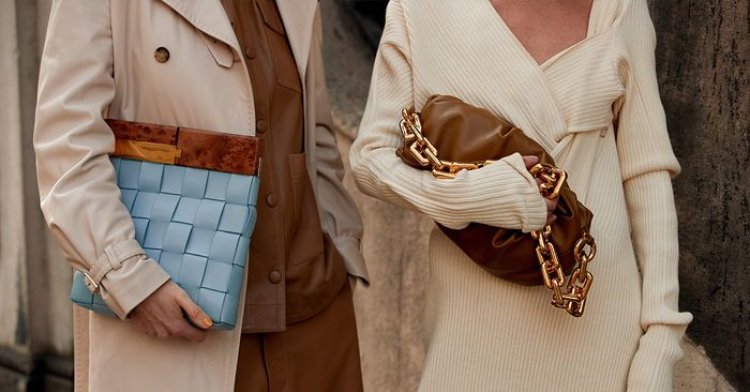 If you were to read any of the text chains between my friends and me, it would be abundantly clear how often we discuss one of the most impractical trends of the century: mini bags. While some handbags have been popular for a long time, it is only within the past few years that the mini-bag trend has risen in prominence. This is due in part to Instagram-favorite designers like Jacquemus helping to usher the trend into viral territory. My mini-bag ramblings have yet to dissipate, but I must admit that I'm relieved to see a new, more practical purse is on the horizon. Please welcome back the timeless clutch bag. 
Clutch bags first emerged in the 1920s to address the needs of consumers who, in lieu of a more practical, traditional carryall, were craving small, stylish bags that would complement specific looks. It's true that, like mini bags, clutches can be a fussier choice since, by definition, these bags are handheld. But that doesn't mean they're not practical. Some of the best clutch bags actually can hold more than a Tic Tac, cost less than a fortune, and—dare I say—give pockets a run for their money. Don't believe me? Ahead, I've rounded up the 45 best clutch bags in every shape and at every price point.
Bottega Veneta introduced the popular cloud-shaped clutch back in July of 2018, and five years later, it's clear that this bag and its various iterations are here to stay.
The pouch dates back to medieval times, but it has evolved over the years from its original handheld version to iterations that include zippers and even handle straps. Whether you opt for a traditional square style or a pouch shape (which will be trending through the end of the year), you can't go wrong with this clutch.
One of the more iconic versions of the clutch bag, the envelope/folded clutch is a staple piece in many stylish wardrobes.
Another iconic iteration of the clutch bag is the box clutch. Typically, this bag is made from acrylic, but today, you can find it in a variety of materials, sizes, and styles, making it a fun piece to add to any ensemble.
Let's be real here: Some of us love clutches but hate having to hold them. Enter the wristlet. While there's also the bracelet bag (think of Chloé's famous one), this style still qualifies as a clutch, but it can easily slide on to your wrist so that you don't have to worry about carrying something.
This post was originally published at an earlier date and has since been updated. 
Next: I'm a Designer-Purse Expert—These Shoulder-Bag Trends Will Be Popular in 2023