This Brand-New Mask Resurfaces Your Face in Minutes—so My Face Played Guinea Pig
I felt like I had completely new skin in the best way possible.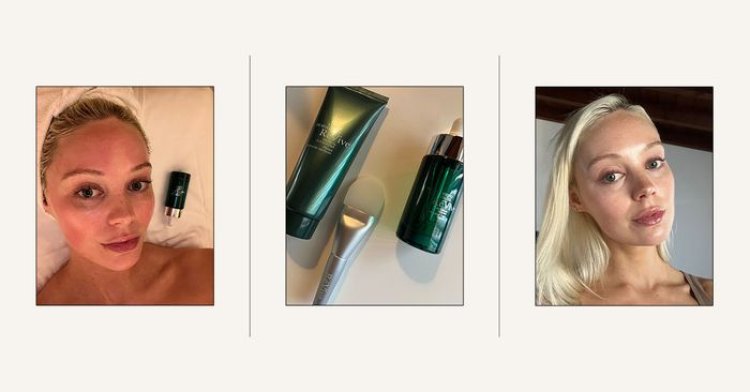 Welcome to Deep Reviews—your one-stop destination to discover the absolute best products and brands the beauty industry has to offer. Every month, the Who What Wear staffers you already know and trust will research, test, and review the market's most sought-after and buzzed-about products to see which formulas (of the hundreds up for consideration) are truly worth your hard-earned money and attention. You can expect honest, completely uncensored feedback and no-BS recommendations our hard-to-please testers endorse without reservations. To put it simply, stick with us, and buyer's remorse will be a thing of the past.
The majority of our Deep Reviews will feature our editors' honest, ultra-hot takes on entire product categories or multiple products from a particular beauty brand, but every so often, we'll sprinkle in a special single-product format called Honestly, I Love It. As the name suggests, these reviews will hone in on a standout beauty formula our editors quite literally can't shut up about. This time around, I'm actually highlighting two products, as I was introduced to them simultaneously during a recent, fancy-schmancy facial collab with RéVive Skincare and licensed aesthetician and founder of The LA Facialist Candace Marino. The newly launched formulas in question? RéVive's Moisturizing Renewal Oil ($195) and the Masque de Brilliance Resurfacing Multi-Acid Mask ($150). 
As someone who's done my sensitive skin dirty (multiple times now) by being a tad overzealous with my exfoliating habits, I tread carefully when it comes to any product or treatment with resurfacing claims. Having damaged my skin barrier in the past (which led to major barrier disruption and a painful cycle of breakouts), I've learned that more is truly not more when it comes to the world of acids and other actives in the realm of skincare. But given that RéVive is a brand I love and hold a lot of trust in—the products are inspired by Nobel Prize–winning technology and created by plastic and reconstructive surgeon Gregory Brown—I didn't give a moment's hesitation when I had the opportunity to test out the brand's new multi-acid mask. According to the buzz I'd heard, the $150 tube promised the smooth, ultra-glowy results you'd expect from an expensive chemical peel sans downtime and in-person clinic requirement. But could it actually?
I was invited by the brand to experience the new launch (along with the also-new Moisturizing Renewal Oil) by way of a luxurious in-person facial with Marino at The West Hollywood Edition Hotel. What better way to let my face play guinea pig to one of the most exciting skincare launches of 2023 thus far, huh? My complexion had been feeling extra dry and dull for months, and I was also experiencing some bouts of acne and pigmentation I just couldn't seem to kick. Basically, I was hoping to leave the hotel post-facial with an entirely new face (I kid, but also not), and honestly, that's kind of what happened.
After Marino worked her magic—her special technique involves lots of facial massage to help boost circulation and lymphatic drainage—I quite literally didn't recognize my skin in the best way possible. Turns out RéVive's cutting-edge formulas were what my skin desperately needed and what my current lineup of skincare staples just couldn't deliver. Below, I'll be taking you through the ins and outs of the new mask and oil plus the step-by-step facial I experienced so you can re-create the magic at home. Let's get into it. 
Despite my love for both RéVive and Marino, I wasn't holding my breath for any major kind of skin transformation. My skin had been in a rut, and no matter what I was throwing at it at home, nothing seemed to change. (Also, between us, I've experienced plenty of lovely and fluffy facials that don't actually do much to improve my skin.) So the fact that my skin looked and felt unbelievable—albeit slightly red, which is normal—post-treatment and looked even more unbelievable the next day, shook me to my core. 
"The Masque de Brilliance instantly renews and resurfaces, visibly reducing dull, dehydrated skin and the appearance of fine lines," Brown tells me. "Over time, you'll also notice an improvement in the skin's texture and overall radiance." A product that offers instant and long-term gratification? Yes, please!
"When you add on the Moisturizing Renewal Oil, you're provided with immediate hydration, environmental protection, and over time, optimal skin renewal thanks to our signature Bio-Renewal Technology," he continues. According to Brown, the new mask marks the first time the brand has ever used a blend of three acids in a product, and while it had created a peel years ago, this new launch is an upgraded version that harnesses the power of a chemical peel you can use at home without the downtime.
"We know that more than 80% of our customers are getting professional treatments, so we wanted to offer them something to achieve similar results at home," says Brown. 
It's also worth noting that while I've typically never been a facial-oil girl, the new Moisturizing Renewal Oil has officially turned me into a facial-oil girl. Namely thanks to its decadent, serum-like texture that leaves your skin looking like a glowing orb of light and a carefully chosen blend of ingredients that feel lightweight on the skin and play nicely with oily and acne-prone skin types, like me. "It's the only oil on the market that addresses hydration, environmental protection, and skin renewal through our signature Bio-Renewal Technology," Brown confirms. 
Even though the dead cell–sloughing trifecta of glycolic, salicylic, and lactic acids is the headliner for the new mask, it's even more efficacious thanks to the addition of enzymes, something many other acid masks on the market lack. "Enzymes make the acids more efficient," he explains. "We balanced the strength of resurfacing acids with the combination of soothing and moisturizing ingredients to develop an effective at-home peel that achieves similar results of a professional level treatment."
Marino (who tries and tests the best of the best as a celeb facialist) agrees that both formulas are extremely unique and special. "The way I sift through what I think is great and what I'll pass on is dependent on two things: the sensorial experience and whether or not it yields results. There are millions of products out there, and I'm only cosigning brands and products I can truly stand behind. The formulation and texture of the new mask is what sets it apart for me. I typically see acid type masks in more of a clay base, so I instantly appreciated this texture as it includes ingredients that nourish the skin while exfoliating, and it does so while supporting the skin's barrier."
"In regard to the oil, I'm a huge fan of oils, but rarely do I try one that stands out among the rest," Marino points out. This oil, in particular, features a bio-peptide, which strengthens the skin while replenishing and moisturizing. She describes the texture of the oil as feeling more like a serum, albeit a serum with a lot more moisture power. "It instantly absorbs into the skin without leaving a greasy film—my skin literally drank it up upon first use, and it truly felt like the oil penetrated and impacted the volume of my skin."
I'll be diving into the step-by-step facial protocol Marino gave me shortly, but first let's talk some basic dos and don'ts when it comes to the a new mask and oil—i.e., when and how to use them and who they're best suited for.
Since the Masque de Brilliance is potent, Brown says people with more sensitive skin should run a patch test prior to application. How well your skin tolerates the formula can help you decide how long to leave the mask on. "Start with two to three minutes, and work your way to the suggested five- to-seven minute wear time," he advises. You'll use it after you cleanse and before you moisturize, and it goes without saying that it pairs brilliantly with the new oil.
The Moisturizing Renewal Oil is most suitable for normal to dry skin types. Although, anyone can really use it thanks to the lightweight, non-oily texture—I attest! You can use it day or night—under SPF for the former and on top of or underneath your moisturizer depending on how thick it is. (The general rule of thumb is to always start with your thinnest products and build up to your thickest—this locks in all of the skin goodies you've applied beforehand.)
The assessment: "Like everyone in Los Angeles, your skin was dehydrated… I literally see this every day on every client because of our dry climate, polluted air, and hard water," Marino tells me. "You also had a bit of dead cellular debris hanging around, which means it's time for exfoliation. I knew instantly that the mask would be the perfect way to gently break down the dead buildup to resurface the texture. In doing this, the skin is able to accept the hydrating and moisturizing ingredients that follow. I always tell my clients, 'Exfoliation is the key to hydration,' and in order for your skin be truly nourished, you must first remove the dead buildup."
After exfoliating with the mask, my skin was able to drink up the benefits from the oil and additional serums and creams Marino applied. "When the skin is exfoliated, hydrated, and moisturized, it's in a state of homeostasis," Marino explains. "It looks and feels happy, and that's when you see a true glow."
Keep scrolling for our step-by-step facial.
"Cleanse the skin in a circular motion with the Foaming Cleanser. Remove using a warm towel, and then use a spatula to apply the Masque de Brilliance onto the skin, starting with the forehead, then the cheeks and jawline. Leave it on up to three minutes, avoiding the eye area. Remove using warm towel."
"Prep the skin by soaking a cotton pad with the Balancing Toner. Apply with a sweeping motion. Then, gently massage the Moisturizing Renewal Oil onto cleansed skin, avoiding direct contact with eyes. Perform a soothing lymphatic drainage massage on the face, neck and decollate without removing the oil." 
"Using a tapping motion, apply the Masque des Yeux onto eye orbital. Follow this with the Masque des Yeux Instant Gel Eye Mask."
"Using the smooth side of the spatula, apply a thin layer of the Masque de Radiance onto skin. Then use the rigid side of the spatula to perform a massage in circular movements. Using a warm towel, gently remove the face mask from the skin and use your hands to press the Balancing Toner onto the skin."
"Press the Moisturizing Renewal Eye Serum around the entire eye area, beneath the eye, and along the orbital bone. Tap a little extra on the eyelid. Apply the Moisturizing Renewal Hydrogel Serum onto the face—work in sections starting at the chin, the cheek, and the forehead. Start in the center of the face and press three times moving out toward the ear."
"Apply the Moisturizing Renewal Oil onto the face—work in sections starting at the chin, the cheek, and the forehead."
"Using a brush in an upward movement, apply the Fermitif Neck Renewal Serum onto the neck and décolleté area. Perform a contouring face and neck massage with the RéVolve Contouring Massage Roller."
"Gently press the Moisturizing Renewal Eye Cream around the lower eye orbital from outer corner in."
"Apply the Moisturizing Renewal Day SPF 30 onto the face, and work in sections starting at the chin, the cheek, and forehead. Start in the center of the face and press three times, moving out toward the ear."
"Use the Fermitif Neck Renewal Cream on the décolletage and neck, including the back of the neck. Then add the Intensité Moisturizing Lip Balm Luxe Conditioner onto the lips to finish." 
(Editor's note: After the new mask and oil, the lip conditioner is my absolute favorite product!)
Up next, This $18 Triple Exfoliating Body Scrub Makes My Skin Feel Like Expensive Silk